Providing Apple IT Support for King, Snohomish, and Skagit Counties!
Does your tech leave you a wreck?
Let MacSOS rescue you from drowning in a sea of technology
Have a syncing feeling your devices aren't?
Let MacSOS be your personal Mac lifesaver
Not in command? Out of control? No options?
Let MacSOS give you the keys to happiness
Battery issues left you drained?
MacSOS can take the pressure off
Six Reasons to Hire MacSOS
①

Plain English Spoken
While MacSOS knows what TCP/IP, AFP, SMB, WPA2, 802.11, IMAP, and SMTP mean, most clients are going WTF! Fear not!MacSOS limits wandering into the jargon jungle and keeps the techie talk to a whisper. On the flip-side, many clients appreciate that Steve will call tech support and speak their language.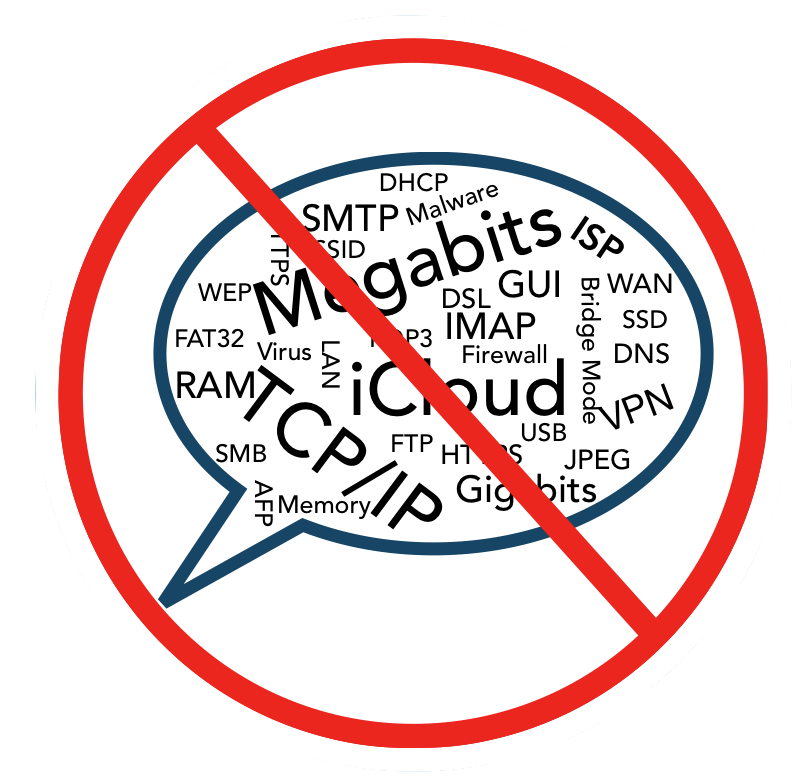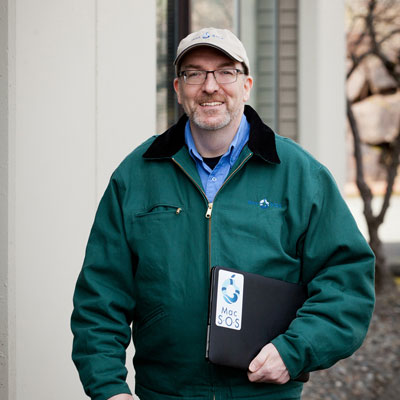 ②
Honest, Dependable & Reliable
With 25 years as an Apple IT consultant, MacSOS has gained a reputation as an honest, dependable and reliable IT service provider. Steve prides himself on arriving on time and providing a pleasant, personal, and friendly touch. You can count on Steve to promptly return all client correspondence. He stands by his work and will make it right If you're unhappy.
③

Knowledgeable & Apple Certified
As an Apple Certified Support Professional and member of the Apple Consultants Network, Steve is continually staying current with the latest certifications and testing of Apple technology. If Steve doesn't have an answer, he can reach out to the combined knowledge of other ACNs in the local area and throughout the U.S. In addition, Steve also has a certification as a Certified Wireless Technician from CWNP.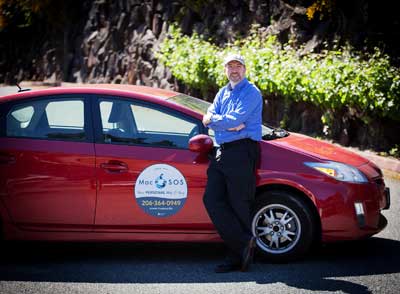 ④
Prompt On-site In-Home Support
Sure the Apple Stores are a great resource. However, they're often busy and noisy, and getting an appointment at the Genius Bar can often be a significant hassle. They may not have the time or capabilities to address your issues adequately. Think of the Genius Bar more like Urgent Care. In contrast, think of MacSOS as the primary care physician for your Apple products. Steve comes to the peace and quiet of your home and provides white glove, boutique quality, customized service to address your specific needs and issues. Furthermore, if equipment is needed, Steve can drive over to the Apple Store and pick it up for you! For more information about our service area, please refer to our service area map.
 ⑤ 
Increase Your Productivity
Steve Jobs once said the computer is "the most remarkable tool that we've ever come up with,…it's the equivalent of a bicycle for our minds." Well, if a computer is a bicycle for your mind does it sometimes feel like your Mac has a flat tire, or needs a tune-up? If your answer is yes, then call MacSOS. I'll fix those flat tires, and give your Mac a "lube and oil." The result will be a more productive you.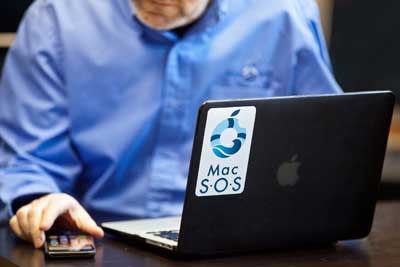 ⑥
Reduce Costs & Save Money
Spending more time troubleshooting your Mac than getting your work done? MacSOS can empathize. Steve will provide fast, efficient IT support to get your Mac working properly. Steve can also discuss with you ways to possibly save money on your internet bill. When it's time to buy a new Mac, Steve will consult with you on the purchasing decision, often saving you money, getting you better value, and a better return on your investment.
Great Results
Steve is the rare combination in the computer industry - he understands how to fix the machines to make them hum and he knows how to talk to people! What an amazing relief. Rather than a snarky know-it-all from BigBox TechSupport, with Steve, you get a genuine caring human being. I honestly cannot say enough good things about Steve and his work. I run a small law firm and I depend upon the computers to make things go. To make sure this happens. I call in Steve whenever I have questions or issues.
- Lawyer From Seattle
Outstanding work quality and knowledge
Steve was on time and oh so knowledgeable about Mac and getting my WiFi connected properly. He also got me connected to the iCloud and synced my phone with excellent information on the why and how. Highly recommend Steve Sorbo for any Mac help.
- Kirkland Grandma From Kirkland
Ideal Resource
My wife and I have very different computer skills and required very different kinds of assistance. MacS.O.S. did an excellent job of solving immediate problems, teaching us to use our Macs more effectively and providing a roadmap to improve our knowledge. MacS.O.S. delivered a high level of service in a professional manner. We highly recommend the company.
- Otto From Seattle
Steve is the Best
Steve Sorbo has always helped me out of a jam. He is a great successor to Apple Care when Apple Care expires. And he is more than fair when it is payment time.
- Fan of MacSOS - Yakima From Yakima
Should Have Consulted Him a Long Time Ago
Got a lot of important computer tasks done that I had been putting off a long time. I had a sluggish, disorganized hard drive and just buying a new computer did not fix the problem due to my inability to transfer function from an older mac. Going to the Apple store or calling the Apple helpline were
unproductive. Steve helped me increase efficiency and divide work/ home functions on the macs and back up data/ iCloud (and my ¡Phone) very painlessly.
- Apple Dyslexic From Seattle
His service & responsiveness are superb. Recommend him highly.
The only consultant we now use to address any issues beyond what can be dealt with at the Genius Bar. He knows his business and can translate our needs into what needs to be done and our sessions are great learning sessions for us. Always responsive and willing to listen to our needs, the best consultant for us and best of all he makes house calls.
- MACuser101 From Seattle